Speech Tools Add In for Microsoft Word adds all the features you've been looking for to make dictation in Microsoft Word faster and easier. Speech Tools makes use of the shared speech recognizer control you've always used.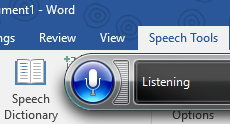 Speech Tools builds on what you already know about dictation with Microsoft Word. You don't need to learn anything new.
Speech Tools installs into Microsoft Word and adds a new tab that provides the new functionality.

Speech Tools gives all these additional features:
A full list of over 800 searchable commands you can use to dictate, format text, navigate documents, open windows and much more
Over 100 new commands that are exclusive to Speech Tools
The ability to make your own dictation commands to add frequently used text to your documents with a single command
A Noise Filter to prevent noises from causing random text to be inadvertently entered into your documents
A Read feature to have the Speech Recognition system read back selected text – it's the ideal way to proofread your documents
A complete transcription system built into Microsoft Word with a media player and controls to help you speed through your transcription projects
The ability to import word lists into the custom speech dictionary
Speech Tools works on Microsoft Word 2007, 2010, 2013 and 2016 running on Windows Vista, 7, 8 and Windows 10.
For more information, check out the Speech Tools video demonstration.
Download Speech Tools Add In for Microsoft Word